" S. Kirpal Singh Ranauta met with an accident after a year
of migration to Canada. This was very tough time for the family,
but the intelligent sons of S, Kirpal Singh came out with the
bad face with their hard work. "
S. Kirpal Singh Ranauta born to Smt. Charan Kaur Mundey in a village Dangoo near Mullanpur, Distt. Ludhiana on Lohri day of 1938. His father S. Banta Singh was a master craftsman and did the sappy work in his home town village Dangoo. He was a religious and respectable person of the villagers.
S. Kirpal Singh Ranauta did his matriculation from Govt. School, Pakhowal in 1955. While studying he continued to help his father in his jobs. After completing his matriculation he shifted to Ludhiana and starts to get training of machinist. After spending so many years he established "Timken Industries" near Bhagwan Chowk, Ludhiana with like minded partner. The quality of the products was very good and appreciable. But in 1988 his partner died and the over head expenses started to shoot up, ultimately he had to close the company.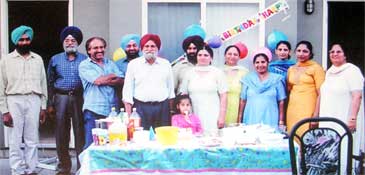 Then he started to work at a Thread Making Mill at Morinda. But the destiny had written some thing good to his luck. He shifted to Canada in 1993, as we all know that ramgarhias are born engineers so in Canada he started to paint the houses as well as became an interior decorator. But after a year he met with an accident so his sons take over the charge of all the work and he simply started to live retirement life and continue to guide them with his expertise. With his guideline and farsightedness family established "JK Paint" in 1996. In 1999 the family expanded the business and established Canwest developer, now the Canwest is a reputed name in and around Vancouver for its quality and durable products.
| | |
| --- | --- |
| | S. Kirpal Singh got married to Smt. Rajinder Kaur Jagdeo in April 1960. The couple is blessed with two sons and two daughters. |
M E S S A G E . . .
"
To be successful in life we have to work hard where ever we live either in India or Abroad.
"
Address : 7657, Victotia Drive, Vancouver V53z6