| | | |
| --- | --- | --- |
| | Family of Sardar Amar Singh Jagdeo | |
| | |
| --- | --- |
| | " In the black days for Sikhism, when riots occurred in November 1984 S. Amar Singh Jagdeo lost his elder brother. S. Zora Singh Jagdeo at Kanpur. He loves him a lot, because he guided him and trained him as an expert Diesel Mechanic. Both had established "Amar Auto Works" which had a reputed name in and around Kanpur for quality work. but everything lost during riots against Sikhs.The death incident broke him from in sider. He tries to settle at various places but could not succeed. " |
When his sons grown up they Established "Jagdeo Electric works" . After assessing the future of Power Tool Industries. The family worked day and night and established "Endico" brand in power tools which is now a reputed name in power tool industries. It is first time in India "ENDICO" Power tools has made Indigenous ROUTER This machine has been developed according to the need of carpenters. The features and quality of "ROUTER" is better than any other competent brand available in the international market. "ENDICO" is a product of choice for the workers those are interested to earn good money with quality work. Now the company is manufacturing wood routers for wood grinding, cutting and finishing The company is certified as ISO 9001.
S. Amar Singh Jagdeo born to Smt Tej Kaur Munday at Mehal Khurad, Distt. Sangrur. on 2nd February 1947. His father s. Chanan Singh Jagdeo was a good Kabadi player, athlete and an excellent wrestler. He was renowned manufacturer of agricultural implements and Bull Cart maker. He was also known for jumps over a standing buffalo.
S. Amar Singh got his primary education from the village school. Then he joined high school at Mehal Kalan for higher education. He passed middle standard exam in 1960. Then he joined his father in the business. His father got ill and the family spent and use all means to save him But he left heavenly abode in 1961 . While nursing and taking care the family came under financial crises.It was difficult to cope up the day to day expenses.
Then his elder brother S. Zora Singh decided to leave Punjab and shift some where else for better future and to earn some money. In 1963 S. Zora Singh called S.Amar Singh to Sarsawa in Bihar.Both started to do work of truck mechanic. After some time with the suggestion of well-wisher they shifted to Kanpur in 1964. they established themselves in Kanpur and earned good money with hard work and sincerity with commitments. They rolled 4 trucks for transportation and started to enjoy good life. but the destiny has written some thing else in their life. S. Zora Singh lost his life during riots.
In 1984 after loosing his brother S. Amar Singh came back to his home town and tried to establish him self as a truck mechanic. But luck was not so favourable then some one suggest him to open a truck repair workshop in newly establish transport Nagar in Ludhiana.
S. Amar singh married to Smt Daljit Kaur Kalsi in 1969. The couple is blessed with three sons and a daughter.
Elder son S. Avtar Singh Jagdeo was born on 20th July 1971. He go his primary education from Kanpur and passed his matriculation in 1987 from Barnala. The family was under financial crises after shifting from Kanpur to Barnala. after observing better future in electronics he joined Karam Electric Works. He spent almost 5 Yr under the supervision of S. Karam Singh Jagdeo . During this he assessed that customer of power tool repair are not entertained due to lack of knowledge. Then observing the better future in the repair of power tools. He suggested his younger brother to get expertise in power tool repair. With his guidance and support Jatinder (his younger brother) came out as a very good mechanic of power tool. In 1999 both brothers established "Jagedo Electric Works" and set up a repair shop in Sherpur area of Ludhiana. After assessing the pulse of market both decided to shift at Shimla Puri, Gill Road Area. because lot of ramgarhias and other workers using power tools are residing in the surroundings. this comes true.
| | |
| --- | --- |
| | Then the family decided to develop power tools fit for Indian condition.. After hard work and lot of experiments they developed the power tool those are economical and durable. When they manufacture first router they decided to name it and the family decided "ENDICO" now the "endico" brand is popular brand in power tools in durability, economy and power saving. S. Avtar Singh married to Smt. Narinder Kaur lotay on 18th Nov. 1994. The couple is blessed with a son and a daughter. |
2nd son S. JatInder Singh born on 7th February .1975. He did his matriculation from
Ludhiana
in 1991.With the guidance and help of his elder brother he learned to repair power tools. Now he is looking after the R & D department of the Endico. He married to Smt. Rajinder Kaur Birdi on
1st December 2001.
The couple s blessed with a son.
3rd son S. Gurjit Singh born on 3rd April 1981 He also did his matriculation from Ludhiana After completing his studies he also started to help the family in business. He married to Smt. Jagjit Kaur Bansal on 22nd March 2007.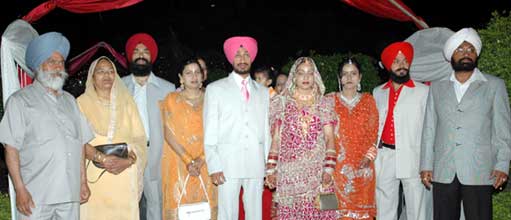 M E S S A G E . . .
"
United we stand divide we fall
"
Address : Jagdev Electric Works Shimlapuri Ludhiana